From "To Be No.1" To "New Domestic Products Of Science And Technology", The 20 Years Of Hongxingerke'S Attack
mention Erke "To be No. 1" is still the impression of many post-80s and 90s. As a matter of fact, this domestic sports brand has entered its 20th year this year, and also has a new development direction. In today's fierce market competition, what kind of new journey will Hongxing Erke embark on in the "year of weak crown"? Wu Rongzhao, chairman of Hongxing Erke, gave the answer at the company's 20th anniversary celebration: focusing on "new domestic products with science and technology" and deeply cultivating the mass sports market.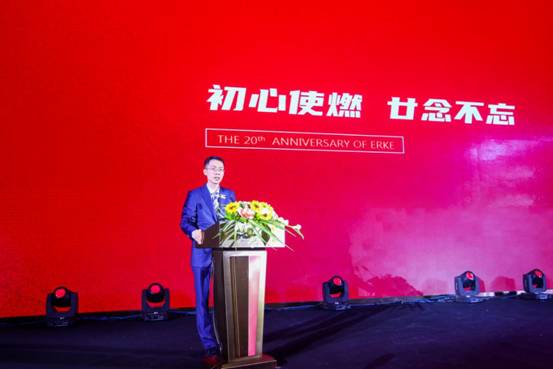 Wu Rongzhao, President of Hongxing Erke
20 years of wind and rain Road, national sports brand "always strive for the first"
"Did we get the wrong script for the opening of our business?" looking back on the ups and downs of the brand in the past, Wu Rongzhao made a joke of himself.
Indeed, it was founded in the millennium Erke The road to rise is not plain sailing. They started from two semifinished workshops and started with a debt of more than 10 million yuan. Wu Rongzhao said that at that time, only a small amount of cash could be used to pay employees' salary for one month, and only a warehouse of foreign trade stock shoes could be relied on.
However, with the belief that "to be No.1 will always be the first", Hongxing Erke, who believes in shoes but not evil, started from the first machine in Quanzhou factory and has been beating ever since.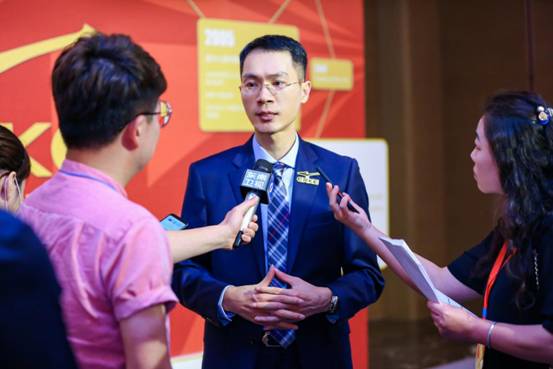 Wu Rongzhao, President of Hongxing Erke, interviewed by media
Like today's world's top 500 brands, Hongxing Erke has had to take many detours in the past 20 years, from capital chain difficulties to channel problems, from product positioning deviation to inventory war, unexpected difficulties and variables hit again and again, but they did not defeat them.
Hongxingerke was listed in Singapore in 2005. When domestic sports brands did not pay attention to the e-commerce channel, e-commerce layout was started as early as 2009, and the national retail channel layout was completed in 2011. Until 2017, it has become one of the top five in the industry.
In the core stage of mass sports, hongxingerke also has its own choice. Since 2005, they began to lay out the field of tennis and sponsor tennis events at home and abroad. They have successively cooperated with Shanghai atp1000 masters, China open, Shenzhen WTA tennis open, WTA Istanbul finals and other tennis events, becoming "the first brand of Chinese tennis clothing".
With tennis events to open up overseas influence, hongxingerke products have been sold to Europe, Southeast Asia, the Middle East and other countries and regions, with exclusive trademark rights in more than 100 countries.
In 2020, Hongxing Erke will occupy a place in the sinking market with the channel strategy of "strengthening the county level and optimizing the city level". By continuously building strategic high-yield stores and enriching the proportion of various types of stores, we can gradually upgrade from local excellent to comprehensive advantages.
However, this too down-to-earth and low-key brand, also encountered some problems in the process of sustainable development. Together with China's sports manufacturing industry, after many detours such as channel trial and error, inventory crisis and inaccurate positioning, hongxingerke has missed some opportunities for brand growth.
However, this brand is still tenacious. In the face of the complicated and changeable situation of 2020, they have given their own series of methods to break the game and look forward to a new situation in the next decade.
Deeply plough into mass sports market and join hands with international gold standard Hefei Marathon
Hongxingerke's first move was to dig deep into the mass sports market. The partner they chose was the Hefei International Marathon, which was upgraded to the international gold standard competition in March this year.
On July 2, hongxingerke became the strategic partner of Hefei International Marathon from 2020 to 2022 and the only sports equipment sponsor of the event.
One shot won a gold medal event, enough to show hongxingerke's confidence in returning to the mass market. Although under the impact of the new champion epidemic, the marathon race is in the moment of suspension, but it is bet that the public demand for healthy sports life will surge in the post epidemic era. Using the gold standard marathon as a breakthrough is one of the most direct and effective ways for hongxingerke to enter the mass sports market.
There are more than 1820 marathons every year, which means that more than five marathons are held every day in China. The mass running represented by marathon is a representative sport of the rise of national fitness movement in China. Nowadays, running is not only a sport, but also a synonym for people's pursuit of healthy life. And from the data, people's willingness to spend on running is also increasing.
According to the report on Chinese marathon crowd and consumption insight released by Nielsen sports, the average cost of Chinese runners in 2019 is 11418 yuan, mainly for running equipment and participating in competitions. AI Huo evaluated the portraits of Chinese runners. The core runners in China are 38 years old, accounting for 84% of men, and the remaining 16% are women with an average income of 156000 yuan. Undoubtedly, they are people with high consumption power.
The above data may be an important reason why hongxingerke wants to cooperate with the marathon race. The main participants of the marathon are the target consumers of the brand, and hongxingerke can also upgrade its brand image and attract more urban consumers "upward".
It is understood that the Hefei marathon is only the first part of hongxingerke's mass sports plan. In the future, it will continue to strengthen the layout of similar mass sports resources to bring better sports products to the Chinese people.
From tennis to marathon, and then to the layout of the future, standing on the threshold of 20 years old, hongxingerke has made the choice to deeply cultivate the mass sports market, and has opened a gorgeous adventure of brand upgrading.
Hongxing Erke breaks through with science and technology
Now you can choose marathon and road running, which is inseparable from hongxingerke's second move -- new domestic products of science and technology.
in fact, Erke As early as 2005, he put forward the development strategy of "technology leading". In the field of running market, many technology running shoes, such as energy storage, sword feather and cage bone, have been launched for a long time. The erkeqi elastic running shoes launched last year are known as "the first pair of super large carbon board running shoes within 500 yuan in China". Once launched, they will be sold out in the first round 10 seconds after they are launched, and will be sold out in 2019 In the "double 11" campaign, sales of 40000 pairs were recorded, which helped Hongxing Erke become one of the "more than 100 million yuan" brand sales list.
The brand of Sinochem and SINOCHEM has been upgraded, which is of great significance to the brand operation of Sinochem. With the proposal of new technology, domestic products and new ideas, it is believed that there will be more domestic products and new technology products joining Erke's "product family" in the future.
It can be said that hongxingerke's slogan of "new domestic products with science and technology" is not without confidence and confidence.
For a long time, while the market continues to expand, Hongxing Erke has continued to increase its investment in product science and technology, insisting on 100% self-produced products, and investing tens of millions of R & D expenses every year. It has established the first shoe and clothing testing agency with CNAs national certification in China, and set up an innovative product research team to continuously polish product research and development and scientific and technological innovation.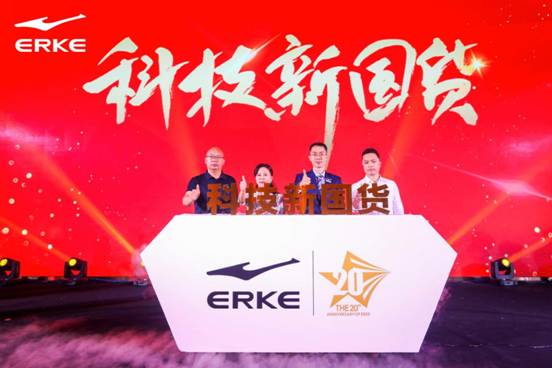 The company's innovation laboratory, e.t-lab (Jike future laboratory), based on 20 years of deep industry experience and tens of millions of consumers' sports demand data every year, provides a lot of technical support for product development, and it is no longer an empty talk to create new domestic products with science and technology.
How will hongxingerke move forward in the next 10 years?
In Wu Rongzhao's view, in the next decade, Hongxing Erke will keep closer contact with consumers, continue to actively fulfill various social responsibilities, convey the concept of youth, fashion and sunshine, and fulfill the social responsibility of "big country brand".
Hongxingerke said so and did it. Hongxingerke used to donate 60 million yuan for two years to help the poor disabled and their families to improve their lives; at the 10th National Paralympic Games in 2019, Hongxing Erke provided loving materials for technical officials, torchbearers and volunteers, and provided sports equipment for participating students. On the 20th anniversary, hongxingerke once again announced the donation of 100 million yuan for poverty alleviation and disability assistance. These philanthropic actions are all in the hope that everyone can realize their sports dream, and let the sports cause of special groups can get more attention.
Since the outbreak of Xinguan epidemic, hongxingerke, together with one foundation, donated 10 million yuan worth of epidemic prevention materials to the epidemic area. Since then, it has also urgently opened up the production of masks to provide safety barriers for ordinary medical personnel.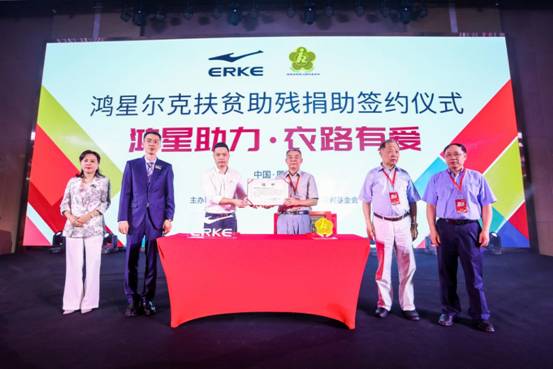 Through continuous operation and accumulation of social responsibility, in June 2019, Hongxingerke brand With a value of more than 31.5 billion yuan, it was once again selected as the "most valuable brand of China's top 500". Although it has not done a lot of dazzling marketing publicity, Hongxing Erke has been working hard to practice its own road, to do channels and products, step by step is quite solid.
Twenty years is not a short time, it is enough for a brand to start from zero and grow into a leading sports brand in China, leaving a deep impression in the hearts of users; 20 years is not a long time, and it has to have 10 years and 20 years of continuous accumulation before it can become an old brand recognized by the whole society and stand in the world's top companies.
"In the next 10 years, there will be more outstanding operators who can put down their face, shoulder their responsibilities, and make achievements to join our business. While achieving a new height in life, they will also gain the strength to overcome difficulties and fight big waves." At the end of his speech on the 20th anniversary of hongxingerke, Wu Rongzhao said so with emotion.