Hundreds Of Enterprises Bring The "Treasure Of Zhenchang" Into The Studio, Zhongshan Shaxi T-Shirt "Number" Says The New Future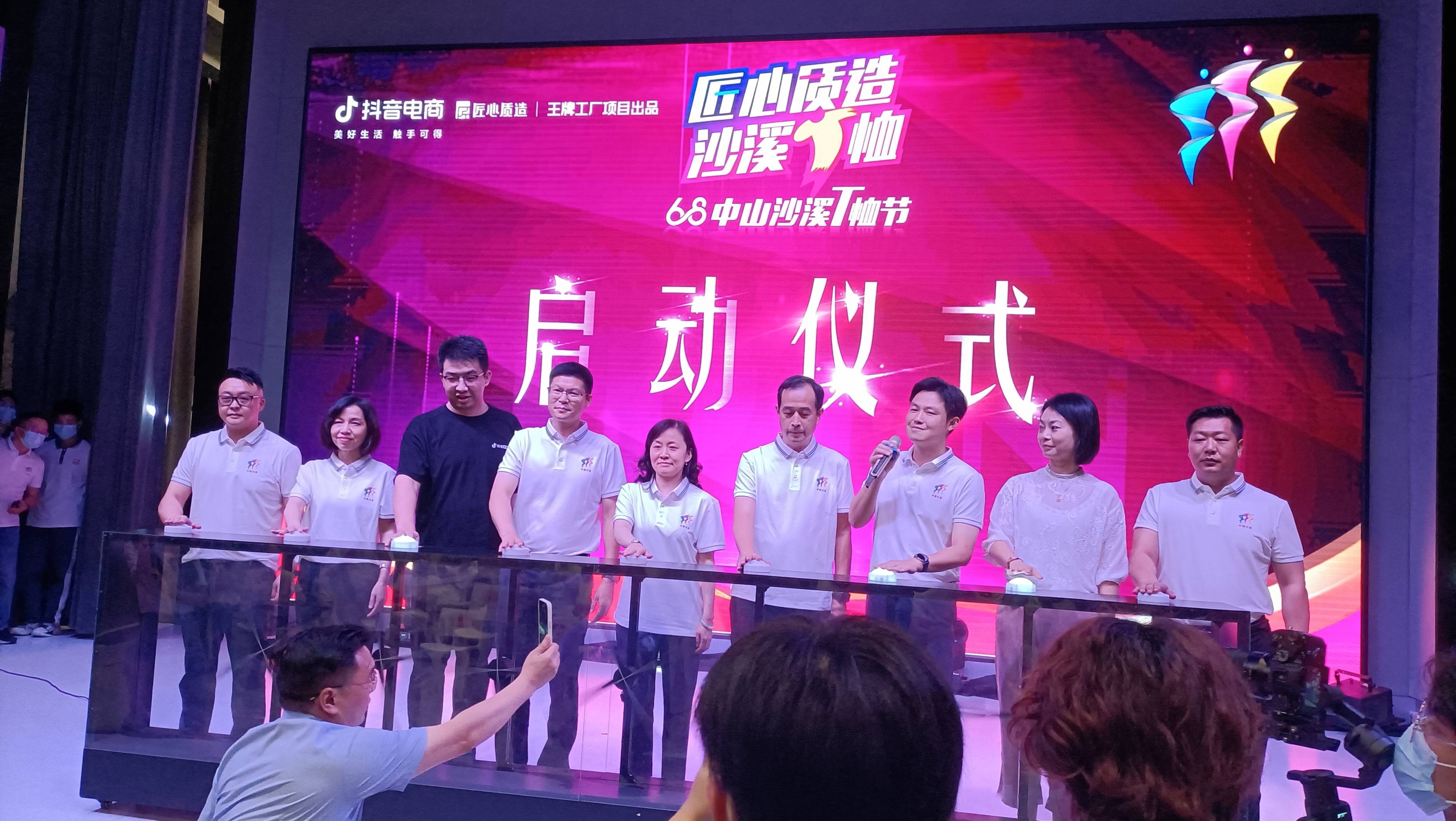 Launching ceremony of Shaxi T-shirt Festival
Water is wealth. Cantonese are used to saying three words.
At 4:00 p.m. on June 8, there was a heavy rain in Zhongshan.
At this time, for 5 consecutive days, "Shuo Yin e-commerce clothing industry · Zhongshan" Shaxi T-shirt Festival "(referred to as "Shaxi T-shirt Festival") is opening in the fashion and creative city of Shaxi Town, Zhongshan. The main venue links 100 garment enterprises in Zhongshan to open the live broadcasting room simultaneously, and also opens a broad road to new wealth.
Nearly 100 garment enterprises broadcast high-quality goods synchronously
"The world T-shirt looks at Shaxi!" Huang dingben, President of Zhongshan cross border Internet Trade Promotion Association, said the "weight" of Shaxi T-shirt.
Shaxi Town is a famous leisure clothing town in China, a clothing production base in China, and a textile capital with industrial influence in China. Behind these halos, there is a strong light of Shaxi T-shirt. This "Shaxi T-shirt Festival" is like a big stage for the industry to focus on.   
Shaxi T-shirt Festival
The "T-shirt factory" project launched by Zhongshan City Government on August 8 was jointly launched by the "T-shirt manufacturers" of Zhongshan City, and the "T-shirt factory" of shayin town was jointly launched by the "people's Republic of China" industry, Seize the golden outpost of "Shuo Yin 618 good things Festival".
During the Shaxi T-shirt Festival, nearly 100 garment enterprises in Zhongshan took out the "treasure of Zhenchang", gathered high-quality goods and sold them in the live broadcasting room, bringing more "benefits" to consumers.
During the activity, the "trump factory" project will also carry out special support for Shaxi T-shirt merchants. The measures include: re listing and sharing of experience of head merchants, mobilization meeting, training of service providers, etc., focusing on promoting the support and promotion of head merchants, the peak ranking of waist and tail businesses, new business service assistance, and commercial data training, Provide Shaxi enterprise factory with whole process solutions including "from e-commerce infrastructure capacity building, traffic support to brand building". At the same time, an offline launching ceremony and a closed door meeting for directional sharing will be held. Online, there will be multiple activities, such as the "Shaxi T-shirt Festival", live broadcast contest, topic challenge competition, 618 Shaxi T-shirt Festival - million popular products plan, and talent selection for you.
   Seize the interest of live broadcast e-commerce to help industrial transformation
In recent years, e-commerce live broadcast ushered in interest, and e-commerce helped the industrial transformation, and garment enterprises with the natural advantage of live broadcasting with goods "hit the Internet" one after another. In the past two years, Shaxi Town has successively held a series of activities such as the first "fashion Shaxi 3.28 live broadcast Festival", which has led Shaxi leisure clothing to a new sales track, and some enterprises have achieved good results in single sales of more than 10 million yuan. At present, xiahu aristocratic family has been ranked in the top three of tuiyin e-commerce nationwide live broadcast men's wear, and Tianyu couple's clothing, Lanwo, Porter bonway and other brands have been listed in the top 20.   
Porter bongway live studio clothing sales, shangjiale skyrocketing
Zhongshan potenbangwei Clothing Co., Ltd. was established in 2007. As an old well-known enterprise in Shaxi Town, it has changed its thinking rapidly and found new development space since the epidemic. In the one-year anniversary of the launch of new media, Porter bongway won 14 places in total tremolo, the fifth in clothing and the first in men's wear; Chan's mother's hot search first, praise more than 20 million; With goods hour list rush third, hour list popularity of the whole station first good results.
Chen Jinkang, chairman of the company, also serves as the chairman of the Internet e-commerce live broadcasting branch of Guangdong clothing industry association, and many other positions. He appreciated the T-shirt festival held by Shaxi Town. "It's a very good publicity for our enterprise. If we promote together, we will certainly bring traffic to our live broadcasting room," he said
Yuan Jie, President of Shaxi live E-Commerce Association
The industry is looking forward to this "Shaxi T-shirt Festival". Yuan Jie, President of Shaxi live broadcasting E-Commerce Association, said: "we have twice opened the screen for the tuiyin e-commerce clothing industry. For all the broadcasting enterprises, the shaking tone e-commerce clothing industry will give a lot of flow support, and the accurate flow support will be introduced into our whole Shaxi. At the same time, through these two days of live broadcasting, consumers can cancel the intermediate link and directly buy good products from our source manufacturers."   
Li Haoming, manager of shuoyin e-commerce clothing and shoe bag industry
Li Haoming, manager of shuoyin e-commerce clothing and shoe bag industry, said that during the "Shaxi T-shirt Festival", excellent brands and enterprises in China will be gathered to create high-priced and affordable products with Shaxi origin through various channels and support of e-commerce flow. Let's look forward to the business card of Shaxi
During the "Shaxi T-shirt Festival", the "Shaxi T-shirt" boom in Zhongshan will be set off through the online and offline multiple playing methods such as the "trump factory" project in the tuiyin e-commerce clothing industry, the linkage of Shaxi T-shirt Festival zone and the simultaneous broadcast of 100 live broadcasting rooms. Zhang Peihua, deputy director of Shaxi Town's Bureau of industrial information, science, technology and commerce, said: we will focus on building a "trump brand factory" to facilitate the two sides to reach some in-depth cooperation and provide more carrier space for the digital transformation and upgrading of the clothing industry.
   From "casual clothing" to "digital fashion"
"Good clothes in Zhongshan, welcome to Shaxi!"
At the launching ceremony of that day, Xu Chengbin, Secretary of the Party committee of Shaxi Town, issued an invitation.
Xu Chengbin, Secretary of the Party committee of Shaxi Town
Shaxi clothing has a long history and a good reputation! Shaxi leisure clothing, which is famous all over the country, originated from shenmingting village in 1981 and has been developed for nearly 42 years. Up to now, there are about 5000 garment enterprises in Shaxi Town, nearly 600 upstream and downstream supporting enterprises, supporting the city's largest professional clothing wholesale market and more than 7000 physical stores.
But Shaxi clothing industry also faces: Although there are many market subjects, they are mainly small and medium-sized enterprises, and their scale is small; The clothing industry has a good ecological environment. Knitting, T-shirt and denim occupy a place in the whole country and even in the world. The printing and embroidery technology of the province is leading. However, the clothing industry mainly focuses on OEM processing and lacks of well-known independent brands; Enterprises are mainly labor-intensive production, digital and intelligent degree is not high, machine replacement progress is slow, labor productivity needs to be further improved.
In the era of digital economy, how to rebuild the "second spring" of Shaxi clothing? The Party committee and government of Shaxi Town put forward a new development strategy of "three four five year plan" and defined the development direction of "digital fashion Shaxi". Focusing on digitalization, intellectualization, branding, park based, fast reaction and large-scale, it is striving to build Guangdong's influential live broadcasting base and high-quality supply chain base "double base", and build Dawan district's digital economic industry new city.
Shaxi Town Mayor Huang Jinghui
Huang Jinghui, mayor of Shaxi Town, said" Shuo Yin E-commerce Garment industry · Zhongshan Shaxi T-shirt Festival "is a preliminary attempt of Shaxi traditional garment industry to empower digital economy. In the future, Shaxi Town will continue to focus on the two themes of" digital economy "and" fashion town ", and drive the traditional manufacturing industry with digital power on the basis of preserving and developing leisure clothing manufacturing capacity, Establish a supply chain platform and intelligent logistics service system conducive to the development of "live broadcast e-commerce", build a strong "online celebrity" incubation base and cultivate a large number of e-commerce operation talents through the joint efforts of government, school and enterprise, so as to provide all-round service and support for the production-oriented enterprises in Shaxi town to develop digitalization, intellectualization and branding.   
Shaxi will build "Zhongshan fashion street" (concept picture)
Xu Chengbin said that Shaxi Town is located in an important position in the bay area of Guangdong, Hong Kong and Macao, and the clothing characteristic factory and development mode are leading the industry. At present, Shaxi Town also through the Internet, tremolo and other platforms, as well as high-quality machinery production, high-quality products dedicated to the whole country, the world! "Our theme is like today's ingenuity Shaxi clothing It will be better and better! " (Zhongshan pen pole)