Du Jiabanna Participated In The 5Th China International Import Expo
Shanghai, China, 5-10 November 2022 - Italian high end Fashion brand Du jiabanna participated in the China International Import Expo (hereinafter referred to as "ICIF") with a view to continuously and closely communicate with Chinese consumers through this international platform of "mutual benefit, win-win and create the future", so as to contribute to the promotion of economic and cultural exchanges between China and Italy.
First time since 2019 China International Fair Since then, Du Jia Banna has always paid homage to the source of brand culture and shared creativity and ingenuity through its Sicilian Pavilion. This year, Sicily, the birthplace of the brand, has a long history and profound cultural heritage, which continues to provide solid inspirational materials for exhibition narration. Icareto Sicilian With folk printing as the core element, and with the traditional Italian lantern elements of luminarie, Du Gabbana created an exhibition space with beautiful light and rich images, presenting the aesthetic style and lifestyle of "bright lights, ingenuity at this time".
It aims at inheriting the essence of "made in Italy". Since its establishment, Duga Banna has been persistently practicing the concept of "fatto a mano" to protect and promote traditional handicrafts. Alta Moda pure hand-made advanced customization series is undoubtedly the ultimate expression of "craftsman's ingenuity". At this Alta On the 10th anniversary of the birth of Moda series, Du jiabanna brought six sets of Gaoding works released in Palermo in July 2017 to the exhibition stand of the Expo for the first time. In addition, special men's suits will be displayed. The atmosphere of Sicilian, colorful and colorful Siciliano (Sicilian cart) style elements and exquisite craftsmanship are exquisitely integrated, showing the amazing skill height, visual impact and cultural connotation.
In addition, Du Gabbana home Series was introduced into the Expo for the first time, presenting a distinctive lifestyle. The collection presents four iconic themes: leopard, zebra and blue Mediterranean (Mediterranean Blue) and Carlito Sicilian cart is made of high-quality materials, with excellence and details first.
Carlito Sicilian The works with the theme of cart are displayed in the center of the exhibition stand, which vividly interprets the charm of folk customs. Covering furniture and rich home accessories, the Durga banner home furnishing series is elaborately created from the needs and personality of guests, and the comprehensive and diversified aesthetic style is consolidated.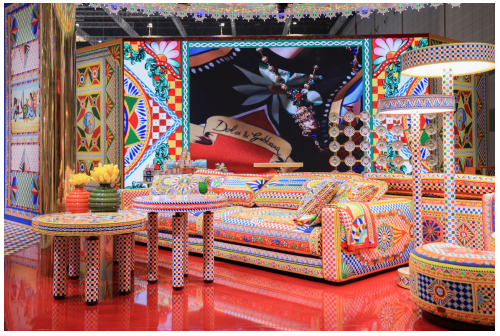 "Happiness" is one of the core meanings of Italian culture and the world of Duca Banna. At the Expo, the brand combines its design vitality with food and wine to share the amazing Italian food culture. The leading brands in this cooperation include: donnafugata, a famous Sicilian winery; Fiasconaro, a Sicilian confectionery company, and pastificio from gragnano, Naples's "spaghetti town." Di Martino。
Just like Andrea, President and CEO of Asia Pacific Fasola said: Since its establishment in 1985, we have been dedicated to sharing with our customers our vision of high quality products and sharing with our customers Through this platform, we will participate in Promoting Sino Italian economic, trade and cultural exchanges and cooperation, and fulfill the brand's long-term commitment to the Chinese market. "
Stand information:
Consumer goods exhibition area 5.2 a6-06
November 2022